Jonathan Blake, Herbert Smith Freehills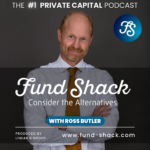 Jonathan Blake is head of international funds strategy at Herbert Smith Freehills.
In the 1980s, Jonathan was responsible for devising the very first limited partnerships for venture capital and private equity in the UK and Europe, and was responsible for convincing the British government that these closed-ended funds were a legitimate structure and valuable business for the economy.
He is also responsible for four decades of carried interest being taxed as capital gains.
This podcast with Linear B Group's Ross Butler is the untold story of the birth of European private equity by the lawyer who was at the table and holding the pen when it all began.
In this Fund Shack private equity podcast, Jonathan recounts his journey, which began in the early '80s when he joined a startup firm called SJ Berwin.
His career took a turn when he was tasked with understanding and structuring a venture capital fund. At the time, limited partnerships were relatively unknown in this context, but Jonathan, with the guidance of influential colleagues, successfully navigated the complexities to create a tax-efficient structure for venture capital investment.
The conversation touches on the evolution of private equity and venture capital, highlighting how limited partnerships, initially an untested concept, became the standard structure in Europe.
The podcast sheds light on the challenges faced in persuading tax authorities and shaping regulations to accommodate this new industry.
Jonathan's contributions played a crucial role in laying the foundation for what is now a thriving private capital market.
Today, Jonathan continues his work at Herbert Smith Free Hills, advocating for private capital and helping the firm adapt to the evolving landscape of unquoted companies and private markets, emphasizing the benefits of this approach over traditional publicly listed companies.
Subscribe now: Apple Podcasts | Spotify