Douglas Hansen-Luke, Future Planet Capital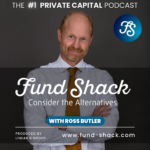 In this Fund Shack private equity podcast, Ross Butler of Linear B Group speaks with Douglas Hansen-Luke, founder of Future Planet Capital.
Douglas explains how the firm runs a portfolio of mandates for purpose-oriented institutional investors across the world. He defines Impact, and explains how to measure it, as well as how to assess and manage the risks of unintended consequences (negative impact).
Future Planet Capital also has exceptional links to the world's leading universities and Douglas gives the inside scoop on the ins and outs of harnessing the very best ideas for commercialisation. Most famously, the firm backed the Oxford Vaccitech T-cell Covid vaccine directly from the university to lab, and saw it list on the Nasdaq stock market in 2021.
Other investments include Roslin Technologies, a fake meat business from the university that brought you Dolly the Sheep, Tokamak Energy, a fusion business feeding into a future low carbon energy grid and Tropic Biosciences, a cutting edge gene editing company.
Douglas has also been on the frontline of efforts to allow UK pension funds to invest in private equity and venture capital, and he explains why the latest 'Mansion House reforms' make sense for pensioners and for Britain.
👉 If you are interested in impact investing, you may also want to check out Travers Smith's Alternative & Sustainability Insights Briefing. Check out the latest edition, looking at the rewards and risks around collaboration between companies in order to achieve sustainability goals: https://www.traverssmith.com/knowledge/alternative-and-sustainability-insights/